Functions & Features
Shift Rostering Made Easy
Define shifts, establish schemes and plan the use of your staff resources with utmost precision.
Rostify not only supports you in complying with the necessary staffing, but also in adhering to legal requirements such as rest periods.
Archiving hours worked enables a fair allocation of shifts, public holidays and any necessary overtime.
And that's just the beginning.
Rostify motivates your employees and increases productivity.
The following functions apply to Rostify's full version.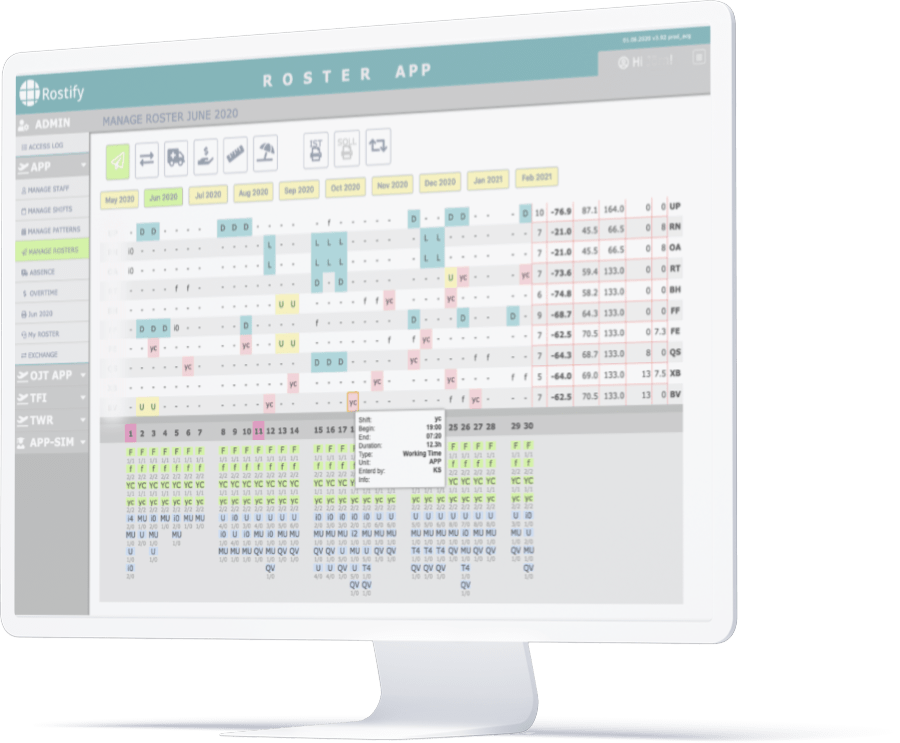 Smart Shift Planning And Staff Management
Rostify saves you time and money in the long run! / Rostify sustainably saves you time and money!
The Dashboard –  Everything At A Glance
Once you log into Rostify, you'll be taken to the dashboard.
In the notification center, employees will see messages such as incoming and outgoing shift swap requests. These can be accepted or rejected instantly.
Shift supervisors will be shown supervisory information such as assigned and missing staff in the registered areas of operation, and expected reports from sick employees.
Departments And Areas
Rostify offers the possibility to create several work areas or offices (locations / branches).
Plans for these areas can be administered completely independently by different shift planners.
However, employees can also be deployed in several areas. All data centrally converge in Rostify.
Roles And Rights
With an intelligent rights system, you can enable users to access different levels or activate additional functions for employees.
For instance, an administrator can manage personnel data, a roster planner can draft plans and administer shifts and schemes, and a shift supervisor can enter sick leaves or search for sick replacements.
Employees can view their plans, swap shifts or submit requests. Trainees have the opportunity to view their trainers' plans and to adjust their shifts accordingly.
Leave Management
Rostify lets you manage leave requests in a completely relaxed way. You approve and manage vacations and absences in a contemporary (and) digital way. You're always on top of things while motivating your staff through optimized allocation.
Employees submit their applications via the web browser or the mobile iOS APP. From home, in the office or while still on vacation.
Plan vacations in real time and inform applicants immediately.
Shift Swaps In Real-Time
Motivate your workforce by letting staff swap shifts independently and in real-time – even across departments.
Rostify instantly checks all legal requirements, such as compliance with minimum rest periods between two shifts.
The roster planner can witness shift swaps live. Shift swap partner are notified via iOS-Push or SMS (depending on your chosen package).
As the manager, you decide whether shift swaps should appear immediately in the schedule or only after your approval.
Roster Requests
Employees can submit requests and apply for shifts for rosters that have not yet been published or are not being processed.
The planner can
Here, the planner can freely administrate whether, for example, only free requests, certain shift groups or even individual services can be given.
It is for the planner to select whether e.g. only requests for days off, certain shift groups or even individual shifts can be made.
The administrator can furthermore define how many requests each individual employee may submit per month.
A control system shows, whether requests were incorporated in the shift planning and notifies both planner and employee about discrepancies.
Spontaneous Absences
Use Rostify to manage spontaneous and short-term absences such as sick leave, care leave or special leave, etc. intuitively and easily.
Rostify immediately indicates which employees or shifts need to be replaced.
Direct Communications
Rostify assumes all roster related communication with your employees.
If you need to replace shifts due to sick leave, you can let Rostify share the available shifts automatically by SMS or push.
The software also communicates automatically in the event of shift swaps. Both inquiries and responses, whether confirmation or rejection, are sent by electronic message.
Your employees will also be notified about the approval or rejection of vacation requests.